Did you know that the following symptoms may be associated with sleep apnea?
High Blood Pressure
Obesity
Snoring
Uncontrolled Blood Sugar
Insomnia
Excessive Daytime Fatigue
Night Time Urination
Trouble Falling Asleep
Trouble Staying Asleep
Anxiety
Depression
Heart Palpitations
Poor Memory
Difficulty Concentrating
Restless Leg Syndrome
When you treat your sleep apnea, you reduce your risk of stroke and heart attack by 50%.
Other Sleep Services
Restless Leg Syndrome
Periodic Limb Movement Disorder (PLMD)
Insomnia
Narcolepsy (with and without Cataplexy)
Hypersomnia
All Other Sleep Issues and Disorders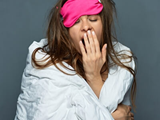 Call Neurology & Sleep Specialists today to set up a consultation and treat your sleep apnea or other sleep-related issue.