Children can get sleep apnea too. At The Sleep Specialists, we can help treat children who have trouble sleeping. 
Some common symptoms of sleep apnea in children
often include one or more of the following:
Nightmares
Night Terrors
Difficulty Concentrating
Snoring
ADHD Symptoms
Difficulty Staying Awake
Bedtime Battles
Behavioral Issues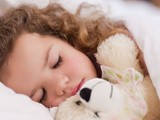 If your child shows any of these symptoms, please call our office to schedule a consultation.